Year 1 - Printing and Patterns
In year 1, the children have been looking at famous artists such as Andy Gauldsworthy. The children have designed their own print and then, using a clay tile and a potato, created their own repeating pattern!
Year 2 - Inspired by Matisse
In year 2, the children have been studying the work of Matisse. They have created their own collages, and also used apps such as Pic Collage on the iPad's to create their own collages.
Year 3 - Picture Me! - Portraits
In year 3, the children have been focusing on portraits and different artists that have used portraits in their work. They have looked at Monet, Picasso, Leonardo Da Vinci and Andy Warholl. They have had great fun looking at the famous Mona Lisa and much more!
In year 4, the children have been looking at Landscapes and the different things to consider when sketching and painting a landscape. They have Looked at David Hockney's work and how his work is quite abstract. They have learnt how to create height and texture in their painting by changing the shade of the colour. They went to King George's Park to sketch a landscape, which they then used for their final painting.
Year 5 - Impressive Impressionists
In year 5, the children have been learning about 'The Impressionists'
. They have studied Monet and other impressionist artists, created impressionist art of their own, and also visited Manchester Art Gallery to look at real examples of impressionism - including Valette and Pissaro. They have been working on The Arts Award (Explore) too!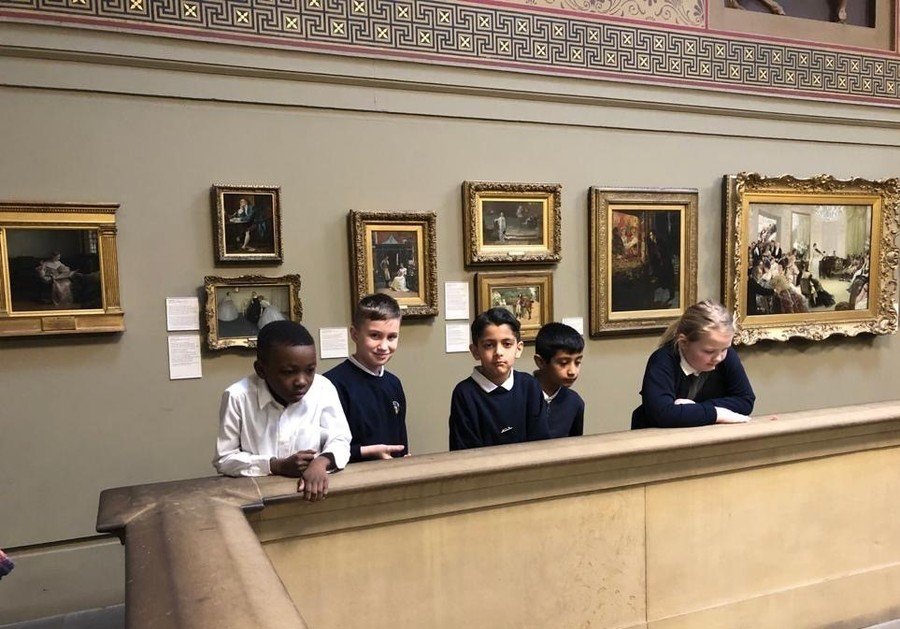 Year 6 - Picasso and other abstract artists
In year 6, the children have been looking at a variety of abstract artists such as, Picasso, Kandinsky and many others. They have learnt about the different styles and media that the artists use, and interpreted this to create their own pictures.