Welcome to Year Five
Mrs Stott, Mrs Farnworth and Mrs Vaughan help the children in Year 5 with their learning.
We were so proud of all our super talented children for the way they performed in the Christmas Assembly! Well done to you all!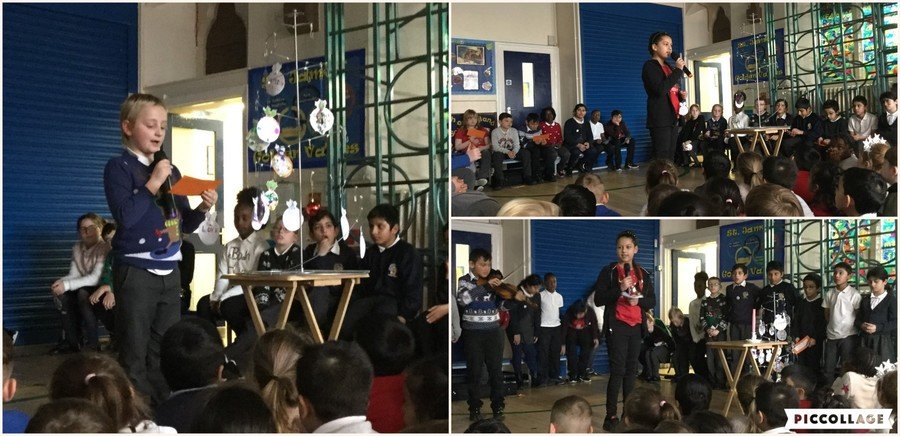 This half term we are making a big impression! Our topic is
IMPRESSIVE IMPRESSIONISTS
This exciting art topic is a new one for year 5 and we are very much looking forward to it! We will start by representing in art our very own journey through Impressionism, looking at the important features of this movement. We will examine the techniques the artists used,using them to make our own versions of famous impressionist landscape paintings. Finally we will attempt to replicate, as a whole class art project, Monet's 'Sunset in Venice' and 'Waterlilies'
Keep an eye on Twitter to check our progress!
In English we will be reading the narrative poem, The Highwayman, by Alfred Noyes
We will write diary entries as the different characters, a newspaper report about the dramatic events and then our own narrative version of the poem. Finally we will act as lawyers, trying to persuade a judge that the Highwayman was killed unlawfully and that his murderers should stand trial!
In our Maths lessons we will start by investigating negative numbers and then move on to looking at how we can develop more efficient mental maths strategies. We will revise multiplication and division and, in our fractions work, look at mixed number and improper fractions. We will finish the half term by investigating problems involving units of measure and revising angles, reflection and translation.
In Science we will study properties of materials - conductors and insulators, electrical conductors, dissolving and separating materials.
In RE our topic is 'Is it better to express your beliefs in Art and Architecture or in charity and generosity?' and we will look at both Muslim and Christian sacred places and special art and at those religion's charity endeavours.
In our French lessons we will learn about the weather and write our own weather forecasts.
On Mondays we have Computing with Mrs Truelove and Chess with Mr Glover.
On Wednesdays we have PE with Miss Terri and Music with Mr Partington.
On Fridays we have PE with Mr Rusholme.
Important Dates
Friday 18th January Year 5 class assembly
Thursday 14th February Theatre visit to the Lowry to see
Billionaire Boy
Homework
There will be a learning log challenge that will be set every Wednesday which should be returned to school the following Wednesday.
As well as a learning log, we expect the children to do at least 15 minutes per week on IXL.
All children also have a short Maths rapid recall challenge which needs to be practised at home. The children will be tested on Tuesday.
Similarly, they will also have a weekly spelling test, which will be on a Thursday
We also expect that the children will be spending time each day reading!
We will be checking the children's homework diaries regularly so may we ask that you please initial all completed homework for your child.
Things to bring to school
Every day: PE kit, homework diary and reading book, homework folder
Wednesday – learning log
Our class prayers
At lunch time, we share this prayer:
For health and strength and daily food, we thank you God.
Amen
At the end of the day, we share this prayer:
At the end of the day, we would like to say thank you God for a lovely day. Please keep us safe 'til the morning.
Amen