COVID-19 Response. This is a copy of the Reception Class page from the summer term. 'Frozen in time' and archived July 2020.
Our Reception Pages
Hello everyone it is Mrs Thomas here. I am missing you all but at the moment we are all having to stay at home and keep safe.
It would be fantastic if you would leave a message on the Reception Class wall letting me know what you have been up to at home.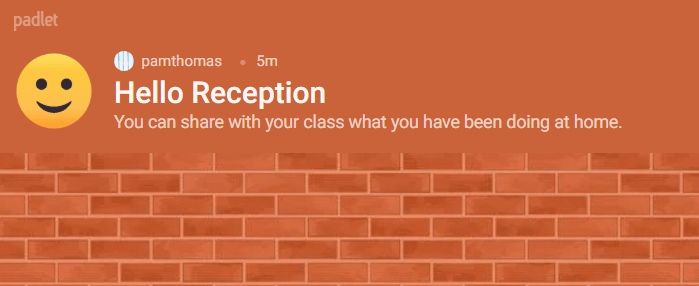 New home learning Packs are available from main school, they are linked to the topic of farm animals.
This week we have been reading Mr Gumpy's outing.
This week Fred Frog has been listening to the story Mrs Wishy Washy.
You can listen to the story of how Mrs Wishy Washy gives the animals a bath. Draw a picture of the animals in the tub . Use your phonics to write labels.
Why don't you wash some of your toys in a bowl and be just like Mrs Wishy Washy.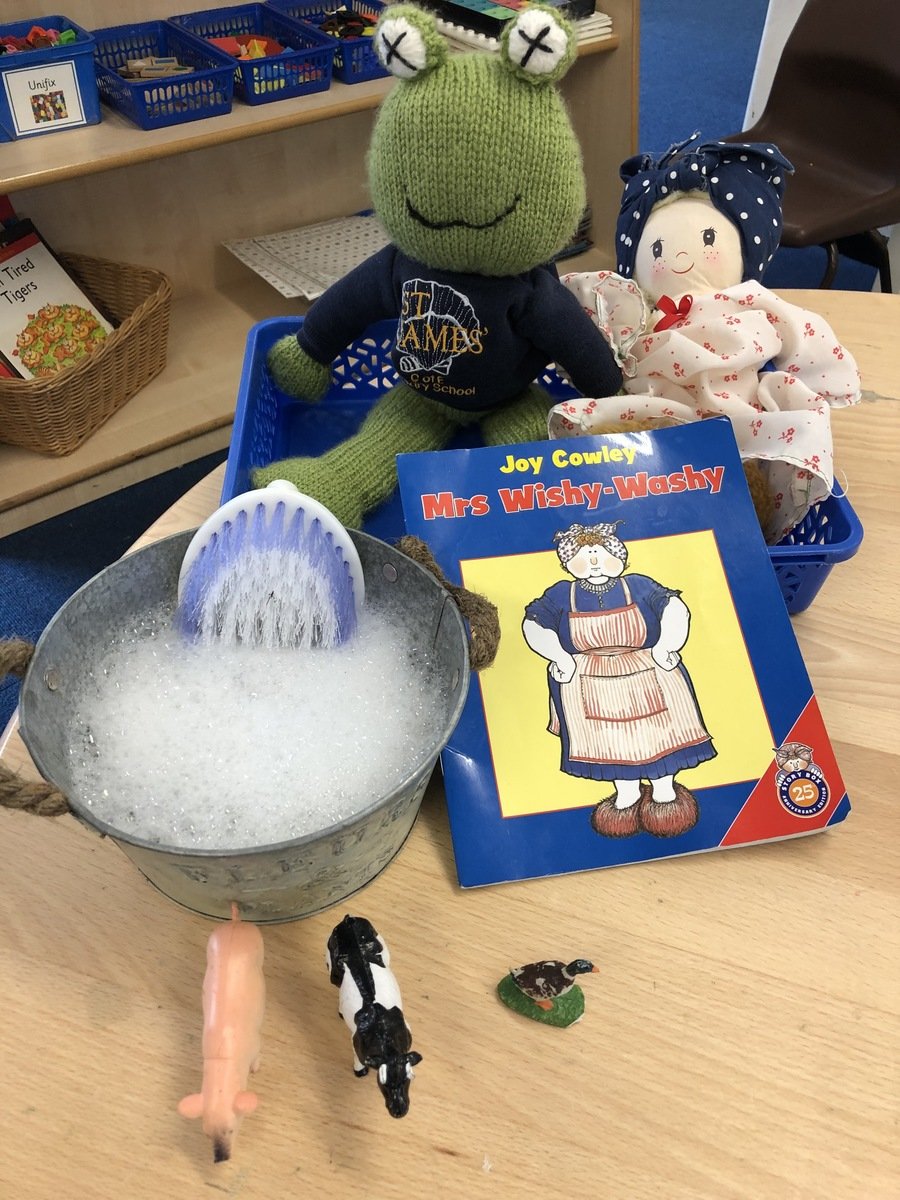 We have cut out the pictures from our learning packs and made them into stick puppets. We then took turns to do a puppet performance, retelling the story.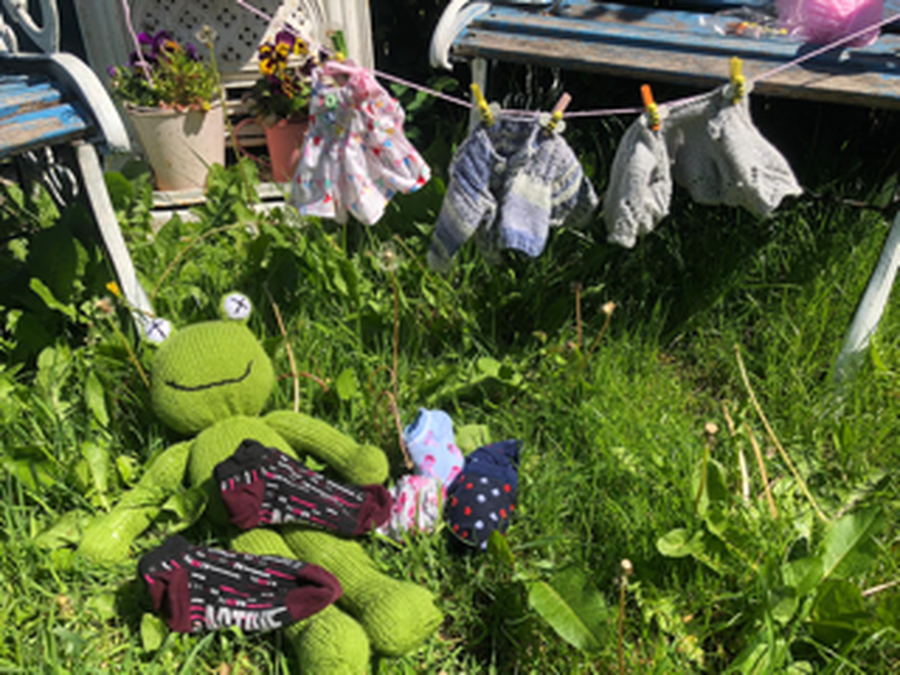 This week Fred Frog has been helping me to peg out the washing in the sunshine. Can you help at your house to peg out the small items of washing? Count the washing as you hang it out.
When it is dry, he has helped me to put my socks into pairs. This is a really tricky job. You have to find the socks that have the same pattern and are the same colour. See if you can do this too.
In your home school pack, you can cut out the patterned socks and match them into pairs. You can design a pair of socks using different colours and patterns. Remember both socks are the same.
When you have some socks rolled into a ball, you can play a good game with them. Get a big pan and throw your socks into it. Take turns to throw them and keep score using a tally like this. When you have finished the game, see who has got their socks in the pan most often by counting the tallies up. You can then practise writing the numbers, use your number line to help you.
Listen to this story about Mrs McNosh who hangs some funny things on her washing line. Have a think about what funny things you could wash. An elephant? Your cat? Your mum and dad? Draw a washing line and draw them. You could write labels for the items and write your own story about your wash.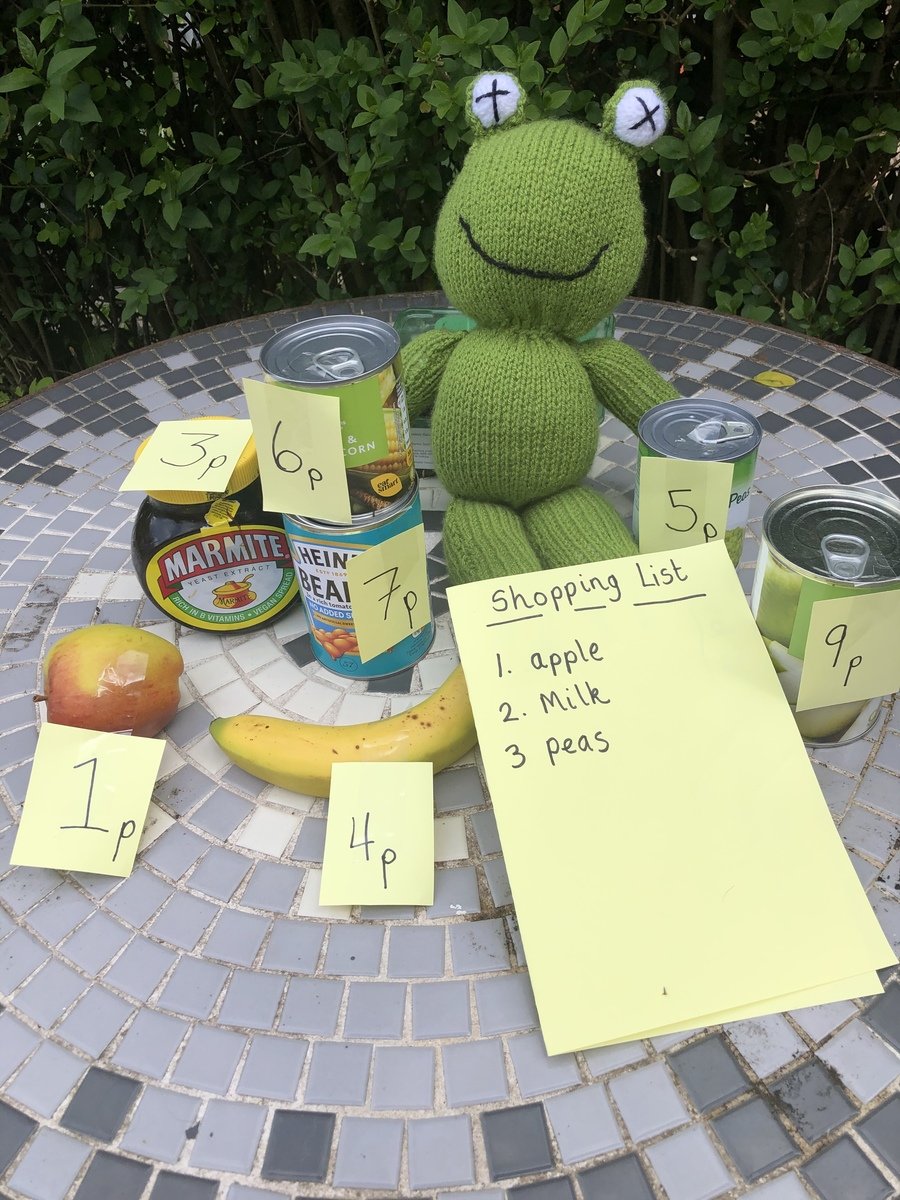 This week Fred Frog has been playing at shop. He has made a food shop using fruit and vegetables and tins from the cupboard. He has made price labels, the p after the number is for penny. You could make a shop at your house. What kind of shop do you like going to? a toy shop? a book shop? a shoe shop? Make price labels.
Fred has been finding out about money and all the different coins. Look at some money and see if you can name the different coins. 1p, 2p, 5p, 10p, 20p, 50p, £1, £2.
Fred has written a shopping list. You can use your phonics to write a shopping list.
Listen to the story The Shopping Basket by John Burningham.
This week Fred frog has been reading The very Hungry caterpillar by Eric Carle. This is one of his favourite books. If you have this book at home you could read it too. You can listen to Eric Carle read it in the link below.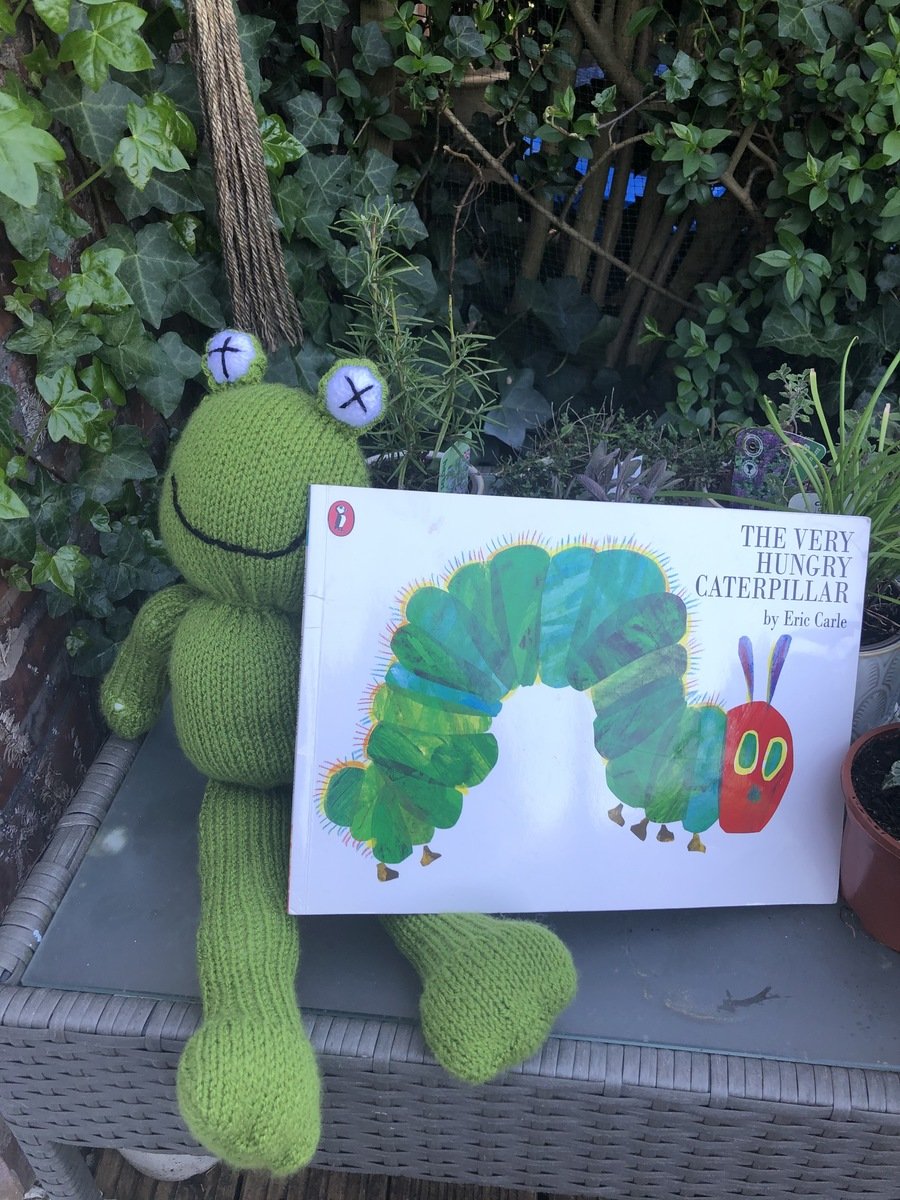 Here are some activities to do after you have listened to the story.
You can draw and write labels of all the different foods the caterpillar eats.

count all of the foods and practice writing your numbers.

If you go outside for your daily exercise look out for butterflies.

use paint, crayons or pens to make a picture of a beautiful butterfly. Look carefully at the wings you will see they are the same on both sides. They are symmetrical.
Fred frog has been busy making rainbows. He has put them in the window of his house to spread some joy. You could make a rainbow for your window. use paint, pencils or crayons. You could even make one with coloured paper from packaging or old magazines.
Next time you are out for some exercise see if you can spot any rainbows displayed in windows, you could count them as you go.
Do you know there is always treasure at the end of a rainbow. Fred is hoping to find a pond and a speckled log to jump off. What would you like to find at the end of the rainbow? Draw a picture and write about the treasures you would like to find.