12.5.20
The government made more announcements yesterday on the proposals for reopening school to more pupils. Here are the two key documents for parents and carers:
We know that you will have many questions and concerns about how we can safely manage this - rest assured, that we have the same questions and concerns too! We will be consulting with staff, governors, unions, the local authority and the Trust over the next few days to try to find answers and make plans. We also want to know what you, our families (and that includes the children) think. To start us off and give us an idea of your initial thoughts, please would you answer the yes or no question below. Thank you.
13.5.20 Thank you for all your responses to our parent/carer poll. The poll is now closed. 56 families have taken part.
The question was:
Question for St James' parents and carers.
The results are:
Yes 7.14% (4)
No 92.86% (52)
11.5.20
We have sent this letter from Mrs Marsh out to parents via email. If we haven't got your email address, please would you let us know either by phone (0161 330 2008) or email (admin@st-james-ash.tameside.sch.uk) so that we can add it to our list. Thank you.
11.5.20
All workpacks and fsm vouchers for w/b 4.5.20 and 11.5.20 have either been collected from school or delivered by our wonderful staff. Please keep looking at the Year Group pages to keep up to date with the class teachers and encourage your children to leave them a message on the Padlet wall.
With regards to the Prime Minster's briefing regarding schools on Sunday evening, we will let you know more when we do!
7.5.20
Thank you for collecting your children's work packs. It has been lovely to see lots of you and have a - socially distanced - catch up :)
The Children's Nutrition Team have produced these really useful meal planners and recipe cards for use at home. Please download a copy if you can make use of them in your home and feel free to share them with friends and neighbours too.
Fact File - cooking essentials
6.5.20
Work packs are now ready for collection from school for children in Years 1 to 6.
5.5.20
FSM vouchers for w/b 4.5.20 and 11.5.20 are now available for collection from school (or posting out if requested).
The Power Maths work on the class web pages is fantastic and will make sure that the children are revising Books A and B and preparing for Book C. Lots of parents have asked us for paper copies, so we are collating work packs for all Years 1 to 6 with two weeks of Power Maths work and English work too. We'll put the maths answers in for the grown ups! As soon as these are ready, we will let you know.
29.4.20
FSM vouchers for w/b 4.5.20 and 11.5.20 have been ordered. If you would like to change your supermarket, now that Aldi have joined the scheme, please let school know.
23.4.20
Class teachers and TAs are really enjoying ringing their classes and speaking to all the children. If you haven't had a call yet, you soon will! Some of the staff are ringing from home so their telephone numbers will be blocked - don't worry though, they'll leave a message if you don't answer first time and ring you back when they can.
21.4.20 pm
Vouchers for w/b 20.4.20 and 27.4.20 are printed and ready for collection. If you would prefer them posting out to you, please let us know.
21.4.20 am
We're in the process of printing the next set of FSM vouchers and will be in touch later today to arrange collection from school or posting out. Thank you.
17.4.20
FSM Vouchers: all families have now received the first set of vouchers and orders have been placed for the next two weeks. Given the amount of problems we have had with the eCodes, we have ordered all families paper vouchers going forward. We will be in touch to ask you to choose your supermarket, if you haven't already, early next week. As soon as the vouchers arrive, we will let you know.
We have heard today that some families have had difficulties using their vouchers in the local Asda stores - as you can see on our Twitter feed, colleagues from other local schools are raising this too. We sincerely hope that this will be resolved soon.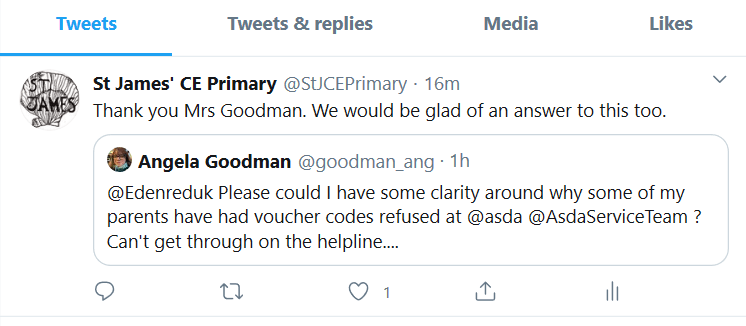 14.4.20
Free school meal vouchers.
Despite best efforts from school, we are really struggling to access and order the next set of vouchers for our families. We will certainly persevere, but please bear with us.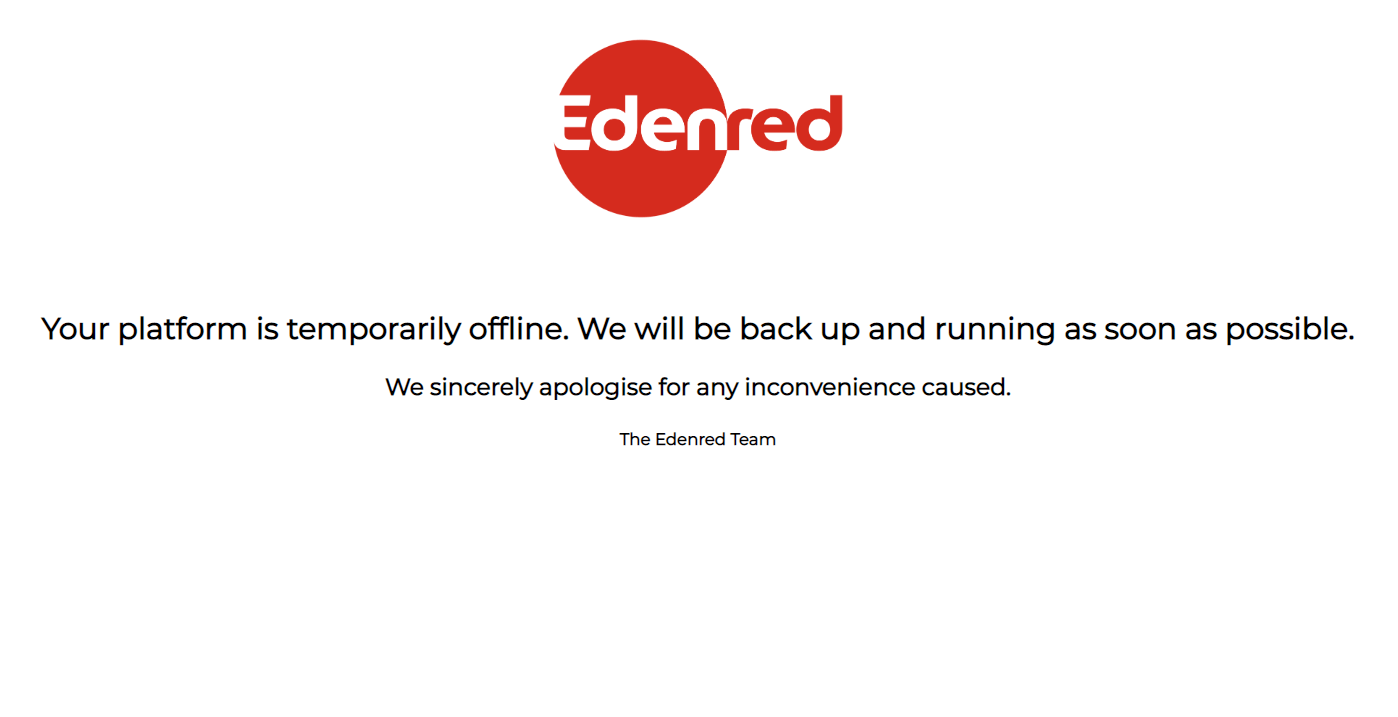 4.4.20
Most paper vouchers have been collected or posted. We're still waiting for the eCode vouchers to process. Thank you for your patience.
2.4.20
We have now placed all requested voucher orders. Please be patient though, it is taking some time for these to process (it's like every school is trying to do it at the same time!).
When paper vouchers are ready for collection, we will let you know.
1.4.20 (pm)
We are in the process of contacting our eligible families to see if they would like to accept their free school meal vouchers. Eligible families are those in receipt of benefits-related free school meals. Please note, this is not the same as Universal Free School Meals that all children in reception, year 1 and year 2 receive.
We will need to know if families would prefer eCode vouchers (delivered by email) or paper vouchers (by post or collection from school). If you have paper vouchers, we will also ask for your preferred supermarket from this list.
Morrisons
Tesco
Asda
Sainsbury's
Waitrose
M&S
Please click here for more information and Frequently Asked Questions (FAQs) about the scheme.
If we do not contact you and you think your child is eligible, please click on this 'applying for free school meals' link.
28.3.20
Thank you to all our parents and carers who have sent us their email addresses. It's really important that we all keep in contact whilst school is closed. If we haven't spoken to you or messaged you this week, we will be in touch soon. You can also email us at admin@st-james-ash.tameside.sch.uk.
Tameside Council have set up a dedicated helpline 0161 342 8355 for anyone who is struggling or needs help or advice to call.
Take care, stay at home and stay safe.
26.3.20
Parents warned of scam emails: from Tameside Council
PARENTS are warned to beware of scam emails claiming to offer free school meal vouchers.
Some parents have received the email that states: "As schools will be closing, if you're entitled to free school meals, please send your bank details and we'll make sure you're supported."
The Department for Education (DfE) have confirmed that it's not official and is a scam email. Parents are urged that if they receive such an email then not to respond and to delete it immediately, and to never provide their bank details in such circumstances.
Tameside Council is working with local schools and meal providers to ensure suitable systems are in place, with schools contacting parents to make arrangements.
HMRC also has details of other financial scams, including phishing emails and bogus text messages offering rebates. Examples of these can be found at www.gov.uk/government/publications/phishing-and-bogus-emails-hm-revenue-and-customs-examples/phishing-emails-and-bogus-contact-hm-revenue-and-customs-examples
Tameside Trading Standards have already warned consumers to beware of scammers who are taking advantage of the covid-19 emergency by charging vastly inflated amounts for in-demand goods.
Chartered Trading Standards Institute guidance on covid-19 related scams can be found at www.tradingstandards.uk/news-policy/news-room/2020/ctsi-issues-warning-over-new-covid-19-related-scams
Tameside Council Executive Leader Councillor Brenda Warrington said: "While the majority are pulling together to help their community, we need to beware the unscrupulous few who are trying to take advantage of the situation.
"Please be vigilant to this email and don't respond to it. And please be aware that these new scams can take many forms and you should take all necessary precautions. The general rule of scams applies - if it seems too good to be true, then it probably is."
24.3.20
Thank you to you all for making safe and sensible choices regarding the new 'stay at home' directive from the government. It is vital that we all play our part in reducing the spread of the virus.
For those staff and children still in school, we are maintaining the highest levels of hygiene that we can and insisting that the 2m distance is maintained - this is really hard to do!
We are working with our catering company to find the best solution to providing free school meals. At the moment we are still asking parents to collect from school. We know this isn't ideal, but please be patient with us - it's a work in progress.
We will always contact you by phone or by the school texting service - please be on the look out for phishing emails regarding vouchers. Don't click on links in emails unless you are absolutely sure you know who has sent them. Sadly, some unscrupulous people will take advantage of any situation.
Take care and keep safe.
As always, you are all in our thoughts and prayers.
21.3.20
St James has now closed for most pupils. Please do not bring your child/ren to school on Monday, unless we have asked you to. We all want to keep safe and respect social distancing.
Our wonderful staff are working hard to prepare and update their class web pages, so please keep an eye on those. There are lots of links to online activities on the Fun Stuff page and children have been sent home with learning packs and logins to subscription sites (like Espresso, TT Rockstars and the Spelling app) to help keep them busy. Learning from home will look very different - it's not all about sitting behind a screen or a device or filling in workbooks. Look at all these fantastic ideas for '100 things to do indoors' for a start!
We are really proud of our school community - you are strong and you are resilient - and we will be in touch with you all over the next few weeks to check in and see that you are OK. Please take care of yourselves. You are all in our thoughts and prayers.
20.3.20
Please read the letter about childcare places. If you think this applies to you, please contact school.
We are texting parents of children who are eligible for free school meals. We will provide a packed lunch for your child for collection from school each day if you would like one. You need to reply to the text to confirm - if you don't reply we will assume you don't want this.
19.3.20
We have been preparing a letter for parents/carers about provision for children of key workers. When we receive the official key worker list from the Cabinet Office (promised today), we will be able to finish it!
It is our aim to have this letter ready for you as soon as we can tomorrow morning.
We will keep updating you as we find out more information.
Stay safe.
18.3.20
The Prime Minister has announced that schools will close to the majority of pupils at the end of the school day on Friday (20.3.20). He has said that schools have a duty to make provision for the children of key workers and for vulnerable children.
St James' will therefore be closed to most pupils from the end of school on Friday 20th March 2020, until we are directed otherwise.
School is open as usual on Thursday 19th March and Friday 20th March.
The Cabinet Office will announce more details about the groups of children for which schools are expected to make provision on Thursday. So far we are told:
'Examples of these [key] workers include NHS staff, police and delivery drivers who need to be able to go to work. Vulnerable children include those who have a social worker and those with Education, Health and Care Plans.
A full list of key worker categories will be published by the Cabinet Office tomorrow.
Children who do not fall into these groups should remain at home with appropriate care.'
If you feel that your child/ren are in either group (key worker or vulnerable), please contact school on Thursday 19th March 2020.